"I know Spartan has a big spot in my heart, so I hope I have at least a little spot in his heart. He's just so nonchalant about everything so I wouldn't know if he was happy to see me or not but it appears that way."
—Amber Marshall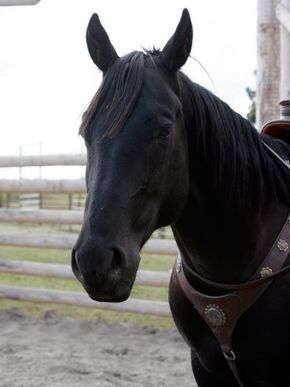 Spartan is Amy's own horse. Amy and her mother Marion were rescuing Spartan from his past owner the night when Marion died. Because of the accident Spartan had a problem with trailers. Scott mentions that Spartan used to be a jumper. 
Because Spartan was once a jumper, Amy would eventually use him for show jumping throughout a large part of the series. Together they competed in the Fall Finale and won first place. Due to school and other obligations on the ranch, Amy eventually stops entering Spartan in show jumping competitions. He is her most beloved horse, it seems, and she mostly focuses on him when she talks about "her horses". He is a gentle horse with some spunk left in his body. He is a natural born jumper, and is usually seen as energetic. Amy is usually seen riding Spartan, no matter the case of cause. When Spartan becomes ill, Amy asks everyone to leave so she can have some time with him alone. And when she tries to get him back on his feet she feels as if her mother is there, helping her.