"Hey. One of these days, a horse is gonna talk back to you."
—Soraya to Amy

Soraya is Amy's best friend who works at her mom's diner, Maggie's Diner. She is always there for Amy and becomes friends with Ashley. She is hired by Lou to run the Heartland dude ranch. Soraya eventually moves to London, England to be near her boyfriend.
We first see Soraya after a trip to Quebec, she returns and visits
Amy
and goes for a trail ride with her. When
Nick Harwell
comes into the
Diner
she becomes besotted with him and starts to act lovestruck when he's around. She convinces Amy to start thinking about show jumping again. (
After the Storm
) Soraya is working at
Maggie's
when the
Briar Ridge
commercial plays. She goes out on a trail ride with
Amy
and when she goes back to Heartland she meets
Ben
and is instantly smitten. When he invites Amy and Soraya to the party at Briar Ridge she begs Amy to go so she can spend time with Ben. When they're at the party she convinces Amy to talk to
Ty
. (
The Best Laid Plans
)
Lou
goes to
Maggie's
to collect the feed order, she's surprised when Soraya brings her cubes as she tried to change to pellets since they're cheaper. Soraya tells her she thought it was a mistake since
Marion
never ordered pellets. (
One Trick Pony
)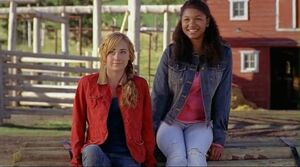 Soraya is enjoying watching
Ben
on his new jumping course, she's being obvious that she likes him and compliments his jumping.
Amy
tries to get her to see what she's doing and try to be more reserved. When Amy tells Ben she can't go to the jumping show Soraya tells her how happy she is that she gets to spend 2 days alone with Ben. (As long as
her mum
doesn't find out.) Later, when Amy is talking to
Lou
about Ben leaving for the jumping show, she mentions how Ben doesn't like Soraya and she overhears. She tells Amy that her mum found out and she had to come back. Amy apologises and invites Soraya to another show next weekend and they make up. Ben returns from his show and Soraya meets him to find out how he did. (
Come What May
) Soraya is working at
Maggie's
with her
mum
. She's reading the newspaper article piling pressure on
Amy
about working with
Gallant Prince
. When
Tim
arrives she tries to warn Amy, but is then awkward while they talk. (
Out of the Darkness
) When she's working at
Maggie's
Kerry-Anne
comes in and manages to scam her out of $20. She later overhears
Ashley
spreading rumours about
Ty
so calls
Amy
to let her know. (
Ghost from the Past
) Soraya is impressed when
Ben
tells her and
Amy
that
Nick
will be coaching him. She is annoyed when
Ashley
interrupts and starts flirting with Ben. After the incident with the mustangs, Amy goes to
Maggie's
to inform Soraya of Ben moving out back to
Fairfield
, she was already aware due to Ashley's status updates online. (
Born to Run
) Soraya attends
Ashley's
after party with
Amy
and
Ty
. Ashley tries to make her jealous by kissing
Ben
. She tells them that she can't go to the jumping show because her
mum
won't let her after she failed biology. When they leave
Briar Ridge
she announces that she's over Ben. She later helps other friends and neighbours re-build the barn at
Heartland
after the fire. (
Rising from Ashes
)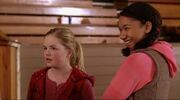 Soraya attends
Amy's
jumping shows and supports her in the stands. (
Coming Together
)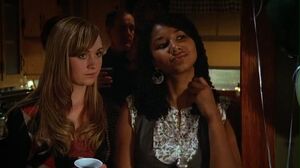 Soraya tells
Amy
about her plans to be a rodeo queen, Amy encourages her. At Amy's party
Ashley
teases her about it and she regrets telling her. (
Ghost Horse
) Soraya studies with
Amy
in
Maggie's
bragging about how happy she is since the new waitress started. She later is working at the Diner totally stressed out because the new waitress is away, thus giving
Lou
the idea to get a job there. (
Letting Go
)
Amy
goes to
Maggie's
and talks to Soraya about
Ty
, she's happy they will be spending the evening together, but Amy starts to get nervous.
Lou
calls Amy telling her that
Caleb
has called in sick but Soraya tells her that he's not, she saw him at
Briar Ridge
this morning. They head over and see him helping
Ashley
with her barrel racing. She gets annoyed when Ashley tells her she's entering the rodeo too and wants to win rodeo queen. (
Corporate Cowgirls
) Soraya tells
Ashley
that she's worried about the rodeo queen article. Later at
Maggie's
, she tells Amy that she thinks she should drop out because Ashley's going to win. She also tells Amy that
Maggie
told her about the accident with
Mark's
brother. (
Holding Fast
)
Lou
is coaching and annoying Soraya for the rodeo queen competition. She complains to
Amy
at
Maggie's
about Lou until they see
Ty
trying out the mechanical bull. Lou tries to put Soraya's make up on but she doesn't like the outfit so fidgets. Lou continues to pick on every little detail so Soraya quits.
Maggie
is annoyed that she quit and tells her that she will sponsor her instead. She comes in 2nd as the rodeo queen and sees a drunk Lou at the party after. Lou apologises and puts herself down so Soraya tries to cheer her up and calls her a role model. (
Sweetheart of the Rodeo
) Soraya is working at
Maggie's
when
Ashley
's card is declined. She warns her she has to cut it so she can't pay her bill. She tells her she has to wash dishes , much to her horror. (
Summer's End
)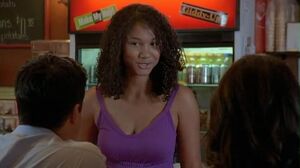 Soraya and
Amy
complain after their first day of school, they are shocked they have homework on day one. When they have a rancher's meeting at
Maggie's
a rancher brings in a cow and causes chaos. Soraya is disgusted at the state of the place and is adamant if anyone brings in another cow she'll call her
Mother
. (
Showdown!
)
Amy
and Soraya gawk at the new BB Simon belt at
Maggie's
,
Caleb
tells Amy that when he wins his next rodeo he'll buy it for her. Soraya is in shock when she notices a new customer enter the Diner,
Mindy Fanshaw
, famous actress.
Ashley
and Soraya tell Amy about seeing Mindy in Maggie's, they also spot some guys sitting nearby and believe they're paparazzi. Amy plays it off and acts as though she knows nothing, as per her confidentiality agreement. The three girls talk again about Mindy on the school bus, when Amy starts to talk about how the stories are lies and how she looks different to the pictures now, Soraya and Ashley get suspicious so follow her off the bus. They manage to get her to admit that Mindy is staying at the
Dude Ranch
, leaving Soraya angry that she lied to her. Amy goes to Maggie's to apologise to Soraya, and tells her that she'd understand if she called the paparazzi. This angers Soraya further to think that she'd blame her and tells her to leave. When Mindy leaves, she stops off at Maggie's and gives the belt back to be gift wrapped and given to a friend. Amy arrives and Soraya passes on the gift, she gives it back to Soraya as an apology. (
Starstruck!
)
Relationships
Edit
Soraya and Maggie have a good relationship, they work together well.
When Soraya meets Ben she becomes instantly smitten with him, with not much reciprocation. Amy points out how obvious Soraya is being and she tries to play "hard to get". As soon as ben finishes a run on his new jumping course she tells him how amazing she thinks he is.
Student
From the Pilot, Soraya is a student of Hudson High school.
Maggie's Diner employee
From the Pilot, in her spare time, Soraya helps her Mum and works at Maggie's Diner.
Appearances
Edit
Heartland

,

Season 5

#01
"Finding Freedom"
#02
"Something in the Night"
#03
"What's in a Name?"
#04
"Beyond Hell's Half Mile"
#05
"Never Let Go"
#06
"The Slippery Slope"
#07
"Over the Rise"
#08
"Nothing for Granted"
#09
"Cover Me"
#10
"Trust"
#11
"Fool's Gold"
#12
"Road to Nowhere"
#13
"Aftermath"
#14
"Working On A Dream"
#15
"Breaking Down and Building Up"
#16
"Wild Horses"
#17
"True Calling"
#18
"Candles in the Wind"
Heartland

,

Season 8

#01
"There and Back Again"
#02
"The Big Red Wall"
#03
"Severed Ties"
#04
"Secrets and Lies"
#05
"Endings and Beginnings"
#06
"Steal Away"
#07
"Walk a Mile"
#08
"The Family Tree"
#09
"The Pike River Cull"
#10
"The Heart of a River"
#11
"The Silent Partner"
#12
"Broken Heartland"
#13
"Cowgirls Don't Cry"
#14
"Riders on the Storm"
#15
"Eclipse of the Heart"
#16
"Faking It"
#17
"All I Need is You"
#18
"Written in Stone"
Community content is available under
CC-BY-SA
unless otherwise noted.