Mallory played by Jessica Amlee, is a current character throughout the first seven seasons. Mallory is a young girl close to the family. Her love interests throughout the show are Badger and Jake. Mallory can be a little bit of a chatterbox. Mallory has a crush on Ty Borden and before she leaves kisses him in front of Amy and the rest of her family. Mallory is always giving advice to Amy and Ty about their relationships. Mallory pushes Amy into telling her that she has a crush on Ty.
Background
Edit
As a close neighbor of the Bartlett's, Mallory spends many hours annoying the people at Heartland. Mallory lived in Alberta until her Father pursued his music career, relocating to Nashville. Her horse, Copper, is a close companion residing at Heartland.
Season 1
Edit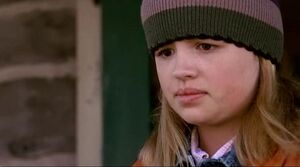 We first see Mallory waiting outside the
Heartland Ranch
for
Amy
,
Jack
and
Lou
to arrive home from the hospital. She greets Amy and asks Jack how she is. She comes back a few days later and is happy to see that Amy was able to fix
Spartan
. (
Coming Home
) When Mallory bugs
Jack
about over how much she's being paid he tells her to clean out
Copper
's stall, which she doesn't want to do. She later helps
Ty
built the jumping course for
Amy
. (
After the Storm
) Mallory turns up at Heartland and asks where
Ty
is, she's disappointed when
Amy
tells her he's at
Briar Ridge
. She offers to horse-sit
Pegasus
so that she can wait for Ty to get back. When he does, she's upset that he won't help her with
Copper
but confesses to Amy that she didn't need his help. Claiming, "Boys suck." She later drags Ty onto the dance floor after the open house.(
Breaking Free
) Mallory is giving
Ty
riding lessons. She agrees with Ty that
Ben
mistreats his horse and isn't happy about it. When she's watching Ben practice on
Red
he gets bucked and Mallory rushes off to find
Amy
. When they arrive back they see that Red has gone. Mallory helps look for him and talks to Amy about Ty and how she'll miss him if he leaves, and is happy when they find him by the creek. When they try to cross the creek Red spooks and pulls Amy off her horse knocking her unconscious. When she calls out her horse spooks and bolts running her back to Heartland. She tells
Jack
what happened and he rushes off to help Amy. When Ben arrives back she tells her what happened and is annoyed when he's more concerned about his horse than Amy. (
Taking Chances
) Mallory arrives at Heartland to help get things ready for filming. She gets annoyed with
Ben
because she thinks he's the reason
Ty
left. She starts to get annoyed by
Lou
and all her jobs, so when she tells Mallory and Ben to move the manure pile they move it under Lou's bedroom window. When she sees that Ty is back she runs up to him and hugs him because she's so happy he's back. (
The Best Laid Plans
)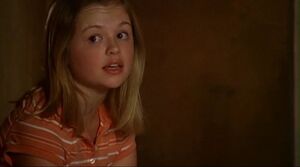 When Mallory sees the way
Scott
reacts when
Carl
shows up she's adamant that he's in love with
Lou
. She overhears Carl on the phone talking about Lou getting a job in Chicago. When she tries to persuade him to let her give him riding lessons he stays instead he'll pay her $1 to get his charger from his bag. When she goes to the barn she tells
Amy
about Lou moving to Chicago. She goes up to the loft to get Carl's charger and finds an engagement ring and rushes to show Amy. She tells her to put it back so heads back up to the loft when
Ty
comes in and asks what she's doing. She quickly stuffs it in her pocket and goes to help Ty turn out the horses. At dinner, Carl proposes to Lou but everyone is shocked when there's no ring. Amy ushers Mallory outside and they try to figure out where the ring is, she remembers putting it in her pocket and they are now going through the wash so rushes home to get it. She brings it back an apologises to Lou and Carl. (
One Trick Pony
) Mallory is helping build
Ben's
jumping course.
Ty
later asks for more secret riding lessons so Mallory takes him out. He wants to try galloping but she doesn't think he's ready. He does so anyway and falls off. She admits to
Amy
, when she notices him limping, that he's been asked on the cattle drive so he wanted more lessons. (
Come What May
) Mallory witnesses
Lisa
and
Jack
flirting with each other at
Maggie's
she tries to help matchmake them. When she see's
Ty
fixing jack's car she starts rambling to him about telling people how you really feel about them. She looks as though she's about to tell him how she feels but backs out. After she learns that
Dan
and Lisa were married she gathers all the information she can find to brief Jack before their next date. (
Out of the Darkness
)
Amy
and Mallory take some shopping over to
Mrs. Bell
. When they get there Amy discovers Mrs. Bell unconscious and calls an ambulance. Mallory is shaken by this experience and begins to worry and
Jack's
mortality. She tries to stop him from drinking coffee, gives him sunscreen and gives him a caffeine alternative drink (the same as Mrs. Bell gives to
Sugarfoot
to keep him regular). When Jack starts to become forgetful she gets more concerned until he reassures her that he takes care of himself. (
Ghost from the Past
) Mallory overhears
Lou
talking to a client on the phone telling them she has the perfect horse for a 12 year old. Mallory believes she's talking about
Copper
and tries to do everything she can to keep him. When the client shows up she tells her that Lou lied and Copper is a dangerous horse. Later Lou finds her and asks her what happened as the client didn't show up. She re-arranges the appointment so Mallory takes Copper so that he can't be sold. They bump into
Wes
who threatens her so she leaves and goes a different way. She then later stumbles upon the feed lot full of mustangs. She calls Lou for help and she and
Amy
arrive to help. As things start to get more dangerous Lou sends Mallory to the truck to keep her out of harms way. The next day, Lou and Mallory come up with an agreement to become partners in Copper by working for sweat equity. (
Born to Run
)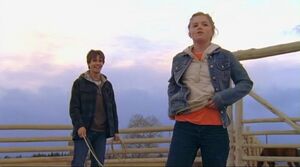 Ty
is practicing his roping to impress
Tim
by roping Mallory. When they go insode she realises that there's only 3 places set for lunch, she's not invited. She manages to scrounge an invite to lunch by standing out at the window shivering until
Lou
lets her in. After lunch, she help Ty steal a cow to help
Payback
. (
Thicker Than Water
) Mallory's in the barn brushing
Copper
with a heater fired up.
Jack
tells her off because they're dangerous and it's not cold enough to justify the cost. After the fire she arrives at
Heartland
in shock, she asks if they know how it happened and
Ty
leads her into the barn. He asks if she used the heater the previous night, Mallory's adamant she didn't and gets upset and runs off. She finds Jack and gives him a hug of relief that he's ok. She admits to him she used the heater the previous night but unplugged it. Jack reassures her that she's not to blame. She helps the other friends and neighbours re-build the barn. (
Rising from Ashes
) Mallory is supporting
Amy
at the Hudson Show.
Jake
introduces himself to her as his fan and also pays attention to Mallory. At the Fall Finale Jake hugs her when Amy wins and she shoves him off her knocking him over. At the party at the
Ranch
Jake tries to talk to Mallory again and she finally succumbs and hangs out with him. (
Coming Together
)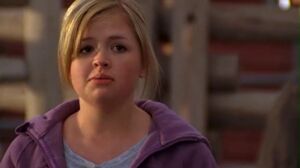 Mallory asks
Amy
to help her learn to jump with
Copper
, she tells her she has to help
Lou
but will help her tomorrow. She decides to practice herself and tries to run ground poles. She gets annoyed with Copper and asks Amy if she can jump
Spartan
but she says no. When Amy has to go on the trail ride, she takes Copper, Mallory is frustrated that she can't help her jump. She asks
Ty
for help with setting up the poles, he shows her Amy's for Spartan but says since Coppers on the trail ride she could come with him into town, she declines. When he's gone she tacks up Spartan and and runs ground poles with him, she's much more impressed by him and decides to jump him. He does great and she takes him for a trail ride to help him cool off. They stop at a fallen branch and gets down to check it's safe to jump, when she turns back around Spartan is gone. She goes looking for him and see's him by the side of the road grazing and takes him back home, unfortunately she fails to see the warning sign by the road. Back at
Heartland
Mallory fetches Ty to help her when she realises something is wrong with Spartan. He asks what happened and she admits that she lost he but found him quickly by the road to
Big River
. Ty remembers they were spraying the roads and works out he has pesticide poisoning. He goes through
Marion's
journals and finds out what to do. They rush to mix water with charcoal and she helps to get Spartan to drink it.
Scott
comes by the next morning to check on Spartan and tells them that they did the right thing and he should be fine. Mallory blames
Caleb
for ditching on the trail ride. She apologises to Amy and feels bad that she missed her evening with Ty and sees him and Kit talking. (
Corporate Cowgirls
) When Mallory reads the article about
Amy
and
Mark
rescuing the boy from the river, she laughs at them spelling Amy's name wrong. Mallory becomes increasingly frustrated at
Jake
when he continues showing up and not giving her any time alone. She goes to
Jack
for advice on how to get rid of him. Jack tells her to be honest but she doesn't like that so he tells her about a story of a girl who avoided him by making excuses and she takes that as the advice. She starts avoiding Jake and telling him she has things to do. He doesn't get the hint so she breaks and tells him she doesn't like him the way he likes her and to leave her alone. She goes back to Jack and tells him that she didn't want Jake to go away completely she just wanted less of him. He sows up again with the cover of losing his knife. Jack is honest with the pair and tells Mallory that Jake wants to see her and Mallory misses Jake. They head off together for Jake to practice roping. (
Holding Fast
) Mallory watches
Jake
on the mechanical bull outside
Maggie's
and helps him out when he hurst himself. She later tells
Ty
that she can't make it to the rodeo because she promised to play games with Jake. (
Sweetheart of the Rodeo
)
Season 2
Edit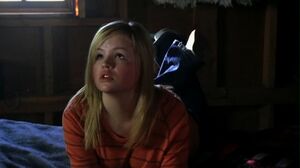 Mallory tells
Jack
that her
dad
has a new job singing on the rodeo circuit and that her
mum
is his agent. They are going on tour and they're sending her to summer camp, she begs Jack to let her stay at
Heartland
for the summer, he says he'll think about it. She tells
Lou
she knows about
Amy's
surprise party and she'll keep it a secret if she talks to jack about her saying. Amy finds Mallory in the
Loft
, she tells her she's looking for a place to stay for the summer but Amy talks her out of it with news of bats and heat. At the party she gives Jack a contract of things she won't do (like talking to much) if he lets her stay, he agrees.
Jake
asks her to dance and she declines. (
Ghost Horse
) Mallory tries to get involved in the drama between
Amy
,
Ty
and
Caleb
but is told by
Jack
to stay out of it. She later sees Jack going over his will and finds it hilarious when she learns his real name is
Jackson
. She talks to Ty and tells him that she read his will, which she's not in, and that she's confused why Jack won't give Lou the land for the
Dude Ranch
when she'd going to get it eventually anyway. Which Jack overhears. She is then put to work when Jack lets Lou re-build the old bunkhouses to turn into her new cabins. (
Letting Go
) Mallory moves in the
Ranch
and moves her many, many bags to her room. When she doesn't eat much at dinner
Lou
becomes concerned,
Jack
goes to check on her and tells her to unpack. She sits sadly in her room with her bunny "Knucklehead".
Charlie
calls to talk to her but when there's no answer at her door Jack assumes she's asleep. The next morning, Mallory wakes
Amy
when she overslept because she was up late studying. When Amy asks why she's still there Mallory tells her she's ill and isn't going to school. She sits sadly in a stall and tries to call her dad but loses connection, she begins to get upset and is found by
Ty
and plays it off as hayfever. Jack goes to talk to her again and asks what's wrong. She finally admits that she feels homesick and feels as though she has no family, he clarifies that her family have been calling her and she hasn't been talking to them. Also, if she unpacked, like he's been telling her to, she'll feel more at home. She finally starts to put her things up and starts to feel happier at Heartland.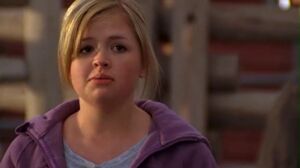 (
Gift Horse
) Mallory joins the group of the cattle drive to help test drive the new
Dude Ranch
horses. She discovers that
Jake
is also on the cattle drive and admits to
Ty
that he looks good on a horse, peaking her interest. When they set up camp she tries to convince Ty to act as a buffer so that Jake doesn't ask her to dance. She later runs off to try and hide from him but he finds her, she tells him a list of differences that mean they can't be together but Jake doesn't give up, Mallory relents and asks him to dance. (
Dancing in the Dark
) Mallory is sleeping outside, out of protest for
Jack
refusing to get AC in the heatwave. At 2am,
Ty
sneaks up on her to make her jump. They're both surprised when a truck pulls in to
Heartland
. She uses the freezer to help cool down until Jack sees and tells her off. He suggests she cool off in the pond, as long as she's careful of leeches. She instead steals ice out of the freezer and has an ice bath. At dinner, Mallory tries to get
Brad
to talk but he instead shows her a magic trick he used to show Ty. She finds Jack using the freezer to cool down and she tells him off, he starts to cave on the AC but she tells him the weather's supposed to change tonight. (
Summer's End
) Mallory complains to
Amy
that her parents are coming to pick her up, but that they also have news that they can't tell her over the phone.
Jess
and
Charlie
arrive at
Heartland
and pick up Mallory, they tell her that Charlie's record has gone gold. Mallory returns to Heartland and finds
Lou
in the barn, head to toe in a coat, she makes Lou promise not to laugh if she reveals what she's hiding. She shows her, Amy and
Jack
her new school uniform. She's being sent to boarding school. Mallory wants Jack to talk to her parents, he admits he already has and they said no. He manages to get Mallory to give it a go and see how she gets on. Mallory says goodbye to
Copper
and confesses to Amy that she's scared of being left behind there. She tries to sheer her up and tells her she'll look after Copper. Mallory says goodbye to everyone and takes the opportunity to finally kiss
Ty
, she runs off mortified declaring she can never return. (
Showdown!
)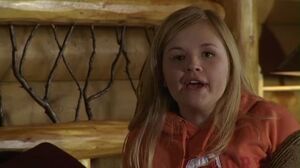 When
Lou
takes
Mindy Fanshaw
to the
Dude Ranch
, she tells her about having fresh bed sheets only to find Mallory hiding in the bed.
Jack
tells Mallory that he has called her school to tell them that she's safe. He asks why and how she got back. She tells him that they were strict with rules like; lights out and 9pm and their pizza was frozen. She snuck out and caught a bus back.
Amy
gives Mindy her first lesson, Mallory interrupts to try and get a photo with her but she refuses. Mallory tells Amy that she seems to be a worse rider than
Ty
. Mallory offers to buy Mindy's helmet from Amy, who declines. She instead takes the water bottle she used. She loses the bottle and starts looking for it, she finds that Jack has thrown it away. He tells her that he has spoken to her
Dad
and they have agreed she can stay at
Heartland
. At dinner, Mindy starts bragging about LA and her life while Mallory tries to ask her questions and brings out magazines with stories on her. Mindy tells them that they're all lie.
Jake
arrives at Heartland and is nearly caught out when Jack asks how he knew Mallory was there. Mallory jumps in and tells jack they are both keeping their mouths shut. Mallory tells him that he has Mindy's lipstick on a napkin to sell online to pay him back for the bus ticket he paid for. He tells her that he doesn't want repaying, he helped her because that's who he is. Jack clarifies with Mallory why she left, he tells her that the reasons she gave are the same at Heartland. She tells him that she knew she would miss everyone but didn't realise how much she'd miss Jake, he paid for her bus ticket and had horses waiting in Hudson for her. (
Starstruck!
) After all the talk about curses, with
Diva Girl
, Mallory asks
Jack
if he believes in curses as her
Mother
does. Her mum calls, as they were talking about her, spooking Mallory and tells her that she's coming back. Mallory begins to panic that something's wrong as she's coming home but not her
Dad
. Mallory gets another call from her mum and tells Jack that she's convinced they're getting a divorce, she worries it's the work of the curse but long distance. Mallory reads a book about how to rid curses, when Jack checks on her she tells him she's going to be pro-active. She goes outside and gives Diva girl some treats that will help rid her of the curse. However, when
Mackenzie
cancels the wedding, she fears it's her fault and that she reversed the curse instead of ridding it. When
Ian
and Mackenzie leave, after the wedding, Mallory receives another call from her mum telling her that her dad needs her so is not coming home, making Mallory happy that they're not getting divorced. (
Divorce Horse
)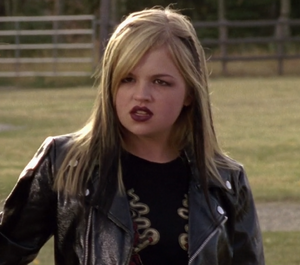 When
Amy
and
Ty
are working with a horse,
Acorn
, together Mallory gets happy to see them together. After they hear the nearby explosions,
Jack
tells them that it's Bedford Oil but they shouldn't be testing without giving them notice first. Mallory realises that she had the letter but thought it was junk mail so was using it as a bookmark. Mallory sighs heavily while reading in Amy's room, she tells her that she should tell the person she likes how she feels before she ends up miserable the the people in her book.
Lou
and Mallory work at the
Dude Ranch
when there are more explosions Mallory reminds Lou about ranchers rights. Lou gets inspired and rushes off leaving Mallory to clean the cabins. Lou gathers everyone that she wants to hold a meeting pf ranchers to help fight against Bedford Oil, she starts handing out jobs and tells Mallory to get a list of ranchers and draft an email to invite them. Mallory is at the Dude Ranch cleaning when she stumbles across the guy's fishing gear realising they've been lying about going fishing. Mallory goes to
Heartland
and waits for Amy to arrive, she tells Mallory that she's been talking to the person she wanted her to talk to in order not to end up miserable. Mallory's happy but tells her about what she found in the cabin, Bedford Oil paperwork. Amy, Ty and Mallory ride out to the field and see the oil company testing land after having broken a fence. Amy and Ty finish working with Acorn and Mallory arrives in tie to see them hugging. Later, Mallory tells Amy she's happy that it all worked out while Amy tells her they can't be together because he's a liar. They clarify that Amy has been talking about Caleb and Mallory is angry because she believes Ty and Amy should be together. (
Seismic Shifts
) Mallory is recruited to deliver the riding lessons for
Tara
and
Badger
, Tara refuses to participate and Mallory tries to get her involved but is unsettled by her perky demeanour. Mallory introduces Tara to
Copper
but is still unsuccessful in getting her involved. They start talking about boys and Tara tries to scare her telling her that she zapped her last boyfriend with a stun gun. She goads her by telling her that she bets Mallory is happy and has a pink room with perfect parents and Mallory gets upset and leaves. Mallory finds Tara watching TV and puts her straight about what she said about her, her parents aren't here and people ignore her but she's happy to have Copper as he's happy to see her. Tara is unimpressed but Mallory tells her she's not the only one with problems. Tara goes to apologise to Mallory but tells her she seems perfect and wants to try again with Copper. Tara admits that she's scared of horses and Badger helps her to feed Copper getting her over her fear. Mallory joins Tara and
Amy
at the
Dude Ranch
, once Amy's asleep they sneak out and sit by the dock. Tara tells Mallory that she likes Ty and Mallory tells her that she kissed him once. She asks about Badger but Tara admits that he scares her sometimes and because he never speaks she can't read him, unbeknown to them he's listening in. Tara and Mallory reach an agreement she gives Mallory a goth makeover and Tara finally rides Copper. (
Do or Die
)
Season 3
Edit
As Lou's wedding draws near, Mallory drops hints at wanting to be Lou's bridesmaid. Lou is oblivious to these "hints", and it takes Mallory's direct confrontation about the issue to get Lou to relent. Both Mallory and Amy have the honor of being bridesmaids as Lou's best pal Marnie instead takes the role of caterer.
Season 4
Edit
Badger returns to Heartland, leaving Mallory in distress. She begins to ignore him, reminding him of his disconnection over the past months. While Jamie, Mallory's friend, begins to date Jake, Mallory is in distress. Jamie begins to give Badger riding lessons, adamant that she will have Jake to herself. Badger and Mallory are both involved in an accident, both falling to the bottom of a well. As time passes, Mallory deepens further into distress as Jake dates Jamie. She grows to hate Jamie, often walking off and glaring at the couple. At one point, Mallory asks Amy for advice on what she should do.
One day, while berry-picking with Jake and Jamie, Badger and Mallory bicker. Mallory calls him a jerk, stating she wishes he had never come to Heartland. Badger accuses Mallory of using him to make Jake jealous. Mallory storms off, leaving him in the vineyard. Later, after a walk, she stumbles across Ms Bell, who asks her which boy she chooses. Mallory responds with "Both.", saying her ordeal is tricky. Ms .Bell relates her own experiences as a young girl, telling Mallory about her adventures and that she climbed Mt. Kilimanjaro.
Afterward, Mallory speaks to Jake. Once she apologizes, Mallory is finally at peace after listening to Ms Bell's advice. She tells Jake she has to "climb Mt. Kilimanjaro.
Season 5
Edit
In Season five, Mallory had a thing for jake and hoped he would bring her to the spring fling but Mallory meets Austin, who works at Maggie's. At first he is obsessed with her father but finally falls for her. She discloses her future; she will be moving to Nashville, Tennessee. Austin and Mallory break up. Mallory tells him it is because he thinks Nashville is more interesting to him than she is. Once Jake finds out that Mallory is moving to Nashville, he promises that he will take her on a proper date when she returns.
Season 6
Edit
In season six, Mallory and her parents come back from Nashville. First, when she discovers that there is another girl at Heartland (Georgie, the character) she feels rejected and jealous as Amy is giving her jumping courses which Mallory has always wanted herself. Mallory starts jumping courses with Amy too but it doesn't work. Amy introduces her to Jeremy Hughes and he becomes her coach. Mallory begins to develop a crush on Jeremy, but it ends after Spartan gets injured.He breaks his leg.
Relationships
Edit
As soon as Ty arrives she develops a crush on him, it's all one sided and Ty see's her as a friend due to the age difference. She tries to tell him how she feels but quickly backs out.
Jake introduces himself to Amy at the Hudson show as her fan. He meets Mallory there and is instantly smitten, Mallory not so keen. He keeps trying and she eventually spends time with him. As time goes on, Mallory begins to develop a true friendship with Jake and he continues determined to show her how much he cares.
Appearances
Edit
Heartland

,

Season 7

#01
"Picking up the Pieces"
#02
"Living the Moment"
#03
"Wrecking Ball"
#04
"The Penny Drops"
#05
"Thread the Needle"
#06
"Now or Never"
#07
"Best Man"
#08
"Hotshot"
#09
"There But For Fortune"
#10
"Darkness and Light"
#11
"Better Days"
#12
"Walking Tall"
#13
"Lost Highway"
#14
"Things We Lost"
#15
"Smoke n' Mirrors"
#16
"The Comeback Kid"
#17
"On the Line"
#18
"Be Careful What You Wish For"
Heartland

,

Season 10

#01
"There Will Be Changes"
#02
"You Just Know"
#03
"New Kid in Town"
#04
"New Horizons"
#05
"Something To Prove"
#06
"The Green-Eyed Monster"
#07
"Riding Shotgun"
#08
"Here and Now"
#09
"A Horse With No Rider"
#10
"Together and Apart"
#11
"Change of Course"
#12
"Sound of Silence"
#13
"Home Sweet Home"
#14
"Written in the Stars"
#15
"Forest for the Trees"
#16
"A Long Shot"
#17
"Dreamer"
#18
"Greater Expectations"
Community content is available under
CC-BY-SA
unless otherwise noted.