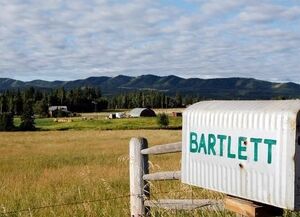 Heartland is located outside the town of Hudson, Alberta in the foothills of the Alberta Rockies. It has been in the Bartlett Family for six generations. It was originally a working cattle ranch but
Marion
had other ideas after
Tim
was injured in his rodeo accident at the Calgary Stampede. She transformed the ranch into a haven for abused and frightened horses.
The Bartlett/Fleming house is where Jack Bartlett lives with his granddaughters Amy Fleming and Lou Fleming and later Peter Morris and Katherine Fleming Morris. Mallory stays with the family whenever she can.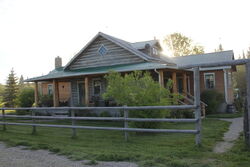 The barn is where Amy and Ty take care of the horses, keeping them fed, cleaned and watered. They have several extra stalls available so Amy can work on helping horses who need her.  
The loft above the barn is where the stable hand lives. The first known person to stay there was Scott Cardinal whom Marion helped get his life straightened out. In the Pilot episode, Ty Borden moves into the loft and takes the job of stable hand. The work is harder than he thought but he gets it done. Later, Caleb Odell moves in and briefly replaces Ty.
Heartland Ranch Layout and Floor Plans Edit
In the seventh season of Heartland, the Heartland Companion App was released for iOS devices for Canadian clients. It had multiple features including access to the Heartland Ranch floor plans.
The App offered panoramic views of the interior of the ranch house and the general layout at the time. Since then, the attic has been converted into a room for Georgie, and the "Nursery" is Katie's proper room.
Jack's room is the only room in the house that has never been shown; the producers revealed no set actually exists for it.
The barn holds both stables and an office area. Client horses that cannot be "turned out" are kept here for treatment, observation and recovery.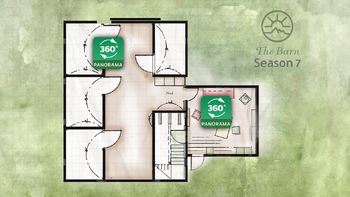 The Training Pen is where Marion and Amy and eventually Ty work with the horses in their care. Getting them used to working with people, saddles and getting over specific problems such as trailers.
Community content is available under
CC-BY-SA
unless otherwise noted.