We first see Ashley attending
Marion's
funeral. She bumps into
Amy
at school on her first day back. She teases her about her new horse
Apollo
and that she'll still beat her when she gets back to jumping. At the party at
Briar Ridge
she takes an interest when
Ty
shows up. (
Coming Home
)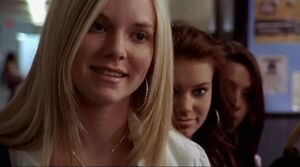 Ashely spots that
Swallow
is back at
Briar Ridge
she asks if she can ride him, when
Val
says no, she rides him anyway and gets bucked off when he spooks at a passing car. (
After the Storm
) Ashley starts flirting with
Ty
when he arrives at
Briar Ridge
, she sees him checking out her
brother's
motorcycle so she asks him for a ride. Later at Heartland, she interrupts
Amy
and Ty she upsets Amy by telling her that she knows she won't be able to fix
Promise
. She continues to flirt with Ty and is put out when Ty declines an invite to hers later that evening. (
Breaking Free
)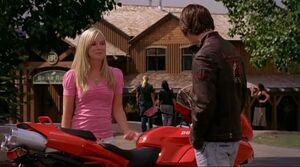 Ashley goes to Heartland to see
Ben
and riles up
Amy
and
Ty
, he offers Ty a job at
Briar Ridge
. Amy accidentally lets slip about Ty's probation. When Ty shows up at Briar Ridge, she shows him around. He asks if his probation will be a problem but she assures him it's not a problem. (
Taking Chances
) Ashley is sat with
Ty
at
Maggie's
trying to make
Amy
jealous when the new commercial for
Briar Ridge
comes on. She later invites Amy and
Ben
to a field party at Briar Ridge. When
Val
fires Ty she finds it hilarious. At the party she tries to flirt with Ty but he just wants to know why she lied to him about telling Val he was on probation, she tells him that Val wouldn't have hired him otherwise. (
The Best Laid Plans
)
Kerry-Anne
tells
Soraya
that Ashley talked about
Ty
which is why she went to find him at
Heartland
. When Ty gives her a ride back to
Briar Ridge
Ashley is surprised to see they actually know each other. Kerry-Anne tells Ashley that Ty tried to get them back together but when she said no he got scary. She takes her up to the bar to hear all the gossip about him for Kerry-Anne. The next day, she's out at
Maggie's
and shows off her new necklace that her grandmother bought for her. When she sees Ty she starts spreading rumours about him being a kleptomaniac and he was working with Kerry-Anne to get
Val
back for firing him. Ashley is furious when she finds her necklace missing and screeches round to Heartland to yell at Ty. After Ty tracks down Kerry-Anne and gets her necklace back he takes it back to Ashley, she tells him she doesn't forgive him and doesn't even like the necklace because it's not big enough. (
Ghost from the Past
) Ashley arrives at
Maggie's
to overhear
Ben
bragging about
Nick
agreeing to be his coach. She then starts to goad
Amy
because she hasn't entered her "washed up" horse into the Fall Finale. Amy retorts that Nick wants to buy
Spartan
so must be good. She later arrives at
Heartland
when everyone is helping the mustangs. She finds Ben in the barn and is impressed when he says he fired Nick. When they realise they are alone they spend some time together "rolling around in the hay." (
Born to Run
) Ashley and
Ben
pay a visit to
Heartland
.
Amy
tells her that she's entered in the Hudson show to get the points to enter the Fall Finale. Ashley invites her and
Ty
to her after party at
Briar Ridge
after the school formal. At the party Ashley brags to everyone about the expansion and then makes
Soraya
jealous by kissing Ben. She starts to brag about her coaches for the jumping show and puts down
Spartan
, causing Amy, Ty and Soraya to leave. (
Rising from Ashes
) Ashley competes in the Hudson Show coming 3rd.
Val
berates her and tells her that if she doesn't improve she's going to sell
Apollo
. In practice she impresses
Ben
by getting a personal best. He convinces her to go and see
Amy
for help with Apollo. She goes to
Heartland
and blackmails Amy into helping her by saying if she doesn't Ben will take his jumps away. Amy goes to
Briar Ridge
and watches Ashley, she tells her that she can't see a problem. As she's about to leave Val arrives and tells her to go round again. She does knocking rails. Amy deduces that Val is the problem, she suggests if she wants Ashley to win she shouldn't watch her at shows. Ashley is about to jump in the jump-off at eh Fall Finale so Val gets up to leave but she can't help herself and turns back to watch. Ashley sees her and walks off the course disqualifying herself. Ben has a go at her but she tells him it was worth it to see Val's face. She argues with Val after and tells her that she knows Val called
Mr. Mallen
to help her win and is disgusted. (
Coming Together
)
Season 2
Edit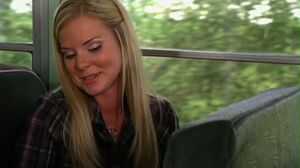 Ashley catches the bus back from school with
Amy
and
Soraya
telling them that her cars in for a service. She shows an interest in Caleb and asks Amy about him, she also asks about
Ty
since he's been gone four months. (
Ghost Horse
) Ashley arrives at
Maggie's
and sees
Soraya
and
Amy
studying. She ditches them when
Caleb
shows up and leaves to spend time flirting with him. She turns up at
Heartland
and sees Amy jumping
Storm
. She tells her that she's seen him on the international circuit and that she needs to make the jumps higher. She again heads off to flirt with Caleb. (
Letting Go
) Ashley competes against
Amy
coming 1st with Amy coming 3rd. She competes against her at the next show and has some trouble with
Apollo
at the gate, she manages to calm him but
Val
insists she show him who's boss. Val pushes and forces Apollo out to the course and gets increasingly angry when she starts knocking rails. After the jump she informs Amy that she can't handle the pressure form her mum anymore and is quitting jumping. (
Gift Horse
) Ashley goes to
Heartland
to see
Caleb
and flirts with him, making
Amy
jealous. He goes to
Briar Ridge
and helps give her some pointers on barrel racing. Amy and
Soraya
come by to have a go at Caleb for calling in sick so Ashley tells Soraya that she wants to start barrel racing and is also going for rodeo queen. Caleb gets
Kit
to come by and show Ashley how it's done.
Val
is horrified that she wants to barrel race and takes
Apollo
away. Kit urges Ashley to have a go and she believes she's good competition. (
Corporate Cowgirls
)
Ashley talks to
Soraya
at
Maggie's
worried about her entry for rodeo queen.
Val
is furious when she sees her rodeo queen entry in the newspaper so Ashley continues to wind her up. Val is disgusted and tells her she's embarrassing. At the polo, Ashley is telling everyone about her move to barrel racing, Val overhears and berates her telling her to stop. Ashley tells her she'll stop if she can keep
Apollo
. (
Holding Fast
)
Kit
coaches Ashley with the barrel racing confusing Ashley for helping the competition. Kit explains that rodeo queen is about rodeo spirit and cheering on the other girls.
Val
continues to be furious at Ashley's determination at running barrels. Val tries to make it up to her and is happy that she's enjoying riding again. At the rodeo Ashley does well at running barrels, she then watches Kit and cheers when she knocks a barrel.
Mrs. Bell
tells her that she didn't win rodeo queen because she needs to improve her rodeo spirit. Val tries to congratulate Ashley but she doesn't want to hear it. Val stops her from walking away telling her they need to talk about jumping. At the party Ashley sets her mind on getting drunk.
Amy
goes outside and hears crying and see's Ashley crying by her car. She tells Amy that Val sold
Apollo
and is devastated. She tries to drive home but Amy stops her and offers to drive. They swerve on the road and Ashley grabs the wheel causing them to crash. She stays the night at
Heartland
and Val arrives to take her home. (
Sweetheart of the Rodeo
) Ashley is horrified to see that
Val
has exchanged her car for an economy car. She's about to head out to play golf when Val reminds her to back for the investors. She's devestated when she see's what's happened to
Apollo
. She tells him how sorry she is and blames Val for selling him.
Lou
goes to the barn looking for
Amy
and sees Ashley, she begs Lou to help save Apollo. Ashley arrives back at
Briar Ridge
and smashes up Val's car for selling Apollo. She demands that she buy him back but Val refuses so Ashley tells her she's moving out. She tells her that everyone leaves her;
Jesse
and her dad would have if he hadn't died, Val responds by slapping her. Val announces that if she leaves she'll cut her off and she leaves. At
Maggie's
Ashley hurries up
Soraya
who tells her that her card's been declined so cuts it. She tells her that to pay her bill she'll have to wash dishes, much to Ashley's horror. Her car breaks down and she's annoyed when she has to pull over and sleeps in her car.
Caleb
is out on a ride and finds Ashley and offers her a rid home. Ed comes to
Heartland
to collect the horses after Lou can't pay, Ashley's devastated again when Apollo is being taken.
Mark
helps and arrests Ed, after talking to his employees about his mistreatment of them and the horses. Leaving the horses at Heartland.
Jack
offers Ashley one of the cabins for a few nights, she says she'll work at the
Dude Ranch
as payment. (
Summer's End
)
Lou
shows Ashley all the jobs she needs to get done around the
Dude Ranch
, much to her horror. She decides to call
Briar Ridge
's cleaning lady for help. Lou finds Ashley in the house and seems to be doing well, she admits to Lou that she's dropping out of school so Lou tries to convince her not to.
Caleb
goes to the Dude Ranch to check on Ashley, she flirts with him but he stops her saying he thinks it's bad timing. Ashley's saddling up
Apollo
when
Val
arrives trying to apologise. She tells her that she'll give her whatever she wants if she comes back home. Ashley is determined to stay at
Heartland
. Val is in despair and confesses she doesn't know what to do, Ashley admits she always wanted her to be like other mothers , and love her. She just wants her to leave her alone now. She goes for a ride, upset about the conversation with her mother, when she stumbles upon the rustlers truck nearby. She comes back with
Jack
, and finds the truck gone, he takes the opportunity to get her to call Val and talk to her. (
Showdown!
)
Amy
meets
Soraya
and Ashley in
Maggie's
, they tell her all about seeing
Mindy Fanshaw
at the diner and that they believe the guys sitting at the nearby table are paparazzi. Ashley arrives at
Heartland
to ride
Apollo
but the gate is locked. She asks
Caleb
to unlock it but he refuses, he tells her that
Lou
has ordered him to keep it locked. He asks her how she is being back home and tells her that he cares about her. Soraya, Ashley and Amy talk about Mindy again, on the school bus. When they're talking about stories about her in a magazine Amy tells them not to believe what's in magazines and that they must be old because her hair's too short. Amy gets off the bus and the other two follow her adamant she's lying. She caves and tells them about Mindy as they see her at Heartland. Ashley admits that they didn't think she was actually lying. Amy goes back to Maggie's and Ashley is excited that Amy's horse is famous, showing her the picture in the magazine. (
Starstruck!
)
Ashley runs into
Caleb
in town, she thanks him for the other night and tells him she misses the barrel racing lessons.
Val
arrives and ushers Ashley away. Ashley tells her that they were just talking and Val puts him down and says he's only after one thing. Ashley stands up for him and storms off. Ashley goes to
Caleb's Trailer
and asks to move in after her fight with Val, he reluctantly agrees but tells her to hide her car and not to tell anyone. After Caleb sends
Amy
23 apologetic messages, she comes over to see him. Caleb shoves Ashley in the trailer before Amy see's her and tells her to pretend she's not there. When she makes a noise from the trailer Caleb rushes off with Amy before she can notice. When Caleb texts Amy to call him she decides to go by the trailer instead. She arrives and see's Ashley and all her things, she rushes off angry. Ashley starts packing her bags into her car telling Caleb she'll find somewhere else. He reassures her she can stay and can park her car here. (
Seismic Shifts
)
Val
goes to
Caleb's Trailer
to see Ashley and deliver some pumpkin loaf. She doesn't believe that she's only there for the loaf and Val tries to ask her to come with her for an appointment, when Ashley is curt Val changes her mind and leaves.
Amy
rides over the the trailer for dinner, upon seeing Caleb and Ashley together she decides to leave.
Jack
drives Val for her doctors appointment and pulls over at Ashley's car. She tells val that Jack called her and offers to take her to the appointment. Ashley gets upset and returns to the trailer, she confides in Caleb that she's worried that her mum is ill and she has no one else, he comforts her. (
Do or Die
)
Season 3
Edit
They get married in season 4. Her mother Val seriously disapproved of her relationship and tried to split them up. Val later accepted her daughter's choices. The couple lived in a trailer for a while before going on their honeymoon. Things started to look rocky when Caleb returned without her and they do when she later decides to go to British Columbia for college and Caleb follows her to later return. She files for divorce while still in college.
Season 4
Edit
She comes back in, where we find out that she graduated from college and went to law school. She and Caleb share a kiss, but Caleb rejects her after realizing she was using him to see if she should accept her new boyfriend's marriage proposal.
Relationships
Edit
Ashley and Val have a difficult relationship, Val will often buy Ashley's affections like with Apollo rather than trying to develop a relationship with her.
When Ben arrives Ashley enjoys spending time with him and flirting. They finally get together and Ben decides to move out of Heartland and back to Fairfield to practice jumping closer to Ashley.
Ashley and Caleb are instantly drawn to each other, they are often spending time and flirting with one another. Ashley takes any opportunity she can to find and flirt with Caleb. Even when Caleb begins dating Amy, he makes it clear that he cares for Ashley and takes the time to check on her well-being. Ashley manipulates Caleb into getting closer when she asks to move in after an argument with Val.
Student
From the pilot Ashley is a student at Hudson High School.
Appearances
Edit
Heartland

,

Season 7

#01
"Picking up the Pieces"
#02
"Living the Moment"
#03
"Wrecking Ball"
#04
"The Penny Drops"
#05
"Thread the Needle"
#06
"Now or Never"
#07
"Best Man"
#08
"Hotshot"
#09
"There But For Fortune"
#10
"Darkness and Light"
#11
"Better Days"
#12
"Walking Tall"
#13
"Lost Highway"
#14
"Things We Lost"
#15
"Smoke n' Mirrors"
#16
"The Comeback Kid"
#17
"On the Line"
#18
"Be Careful What You Wish For"
Community content is available under
CC-BY-SA
unless otherwise noted.